Back to top▲
Trowel Blades and Float Pans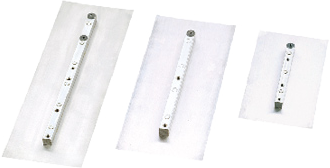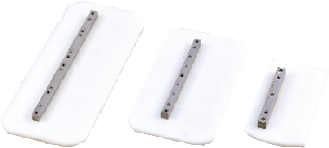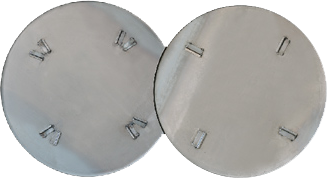 Jump to spec sheet
CONMEC offers a full line of finishing blades, combination blades, super-blue blades, plastic blades, and float pans for edging, walk-behind, and ride-on power trowels. We also offer a variety of screed blades for any size job.
All blades can fit most major brands of power trowels.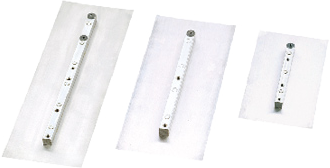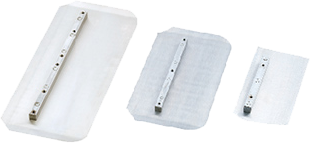 Steel Trowel Blades
Standard finishing blades, combination blades, and clip-on shoes give maximum flex to ensure a smooth, chatter-free finish.

Super-Blue Trowel Blade
Designed to provide a perfect balance between longer blade life and maximum operating smoothness with the versatility to be used on both ride-on and walk-behind power trowels. Stronger than ordinary blades and, combined with its ability to flex slightly, performance is improved and blade life prolonged.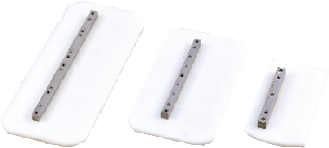 Plastic Trowel Blade
Designed to eliminate the risk of leaving burnish marks on concrete or epoxy while providing a hard polished finish. Blade life comparable to steel blades. Available in finish and combination blade styles.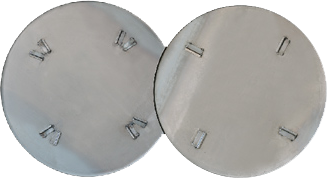 Float Pans
Float pans help achieve flatter floors and increase production. Allows operators to wait longer before getting on the slab. Heavy-duty, mig-welded steel z-clips. Covers a larger area than with float blades.
Technical Specifications
Blade Type
Finishing
Finishing
Finishing
Finishing
Finishing
Finishing
Finishing
Finishing
Combination
Combination
Combination
Combination
Combination
Clip-On
Clip-On
Float Pan
Float Pan
Float Pan
Float Pan
Float Pan
Float Pan
Float Pan
Float Pan
Float Pan
Standard Model No.
CFB061016
CFB061020
CFB061416
CFB061420
CFB061616
CFB061620
CFB061816
CFB061820
CCB0406
CCB0610
CCB0814
CCB0816
CCB0818
CFS1014
CFS1018
CFP025
CFB031
CFP031R
CFP037
CFP037R
CFP043an
CFP043R
CFP047
CFP046R
Super-Blue Model No.
X
SFB061020
X
SFB061420
X
SFB061620
X
SFB061820
SCB0409
SCB0610
SCB0814
SCB0816
SCB0818
X
X
X
X
X
X
X
X
X
X
X
Plastic Model No.
X
X
X
X
X
X
X
X
PCB0409
PCB0610
PCB0814
PCB0816
PCB0818
X
X
X
X
X
X
X
X
X
X
X
Thickness (mm)
1.6mm
2.0mm
1.6mm
2.0mm
1.6mm
2.0mm
1.6mm
2.0mm
1.5mm
2.0mm
12.0mm
2.0mm
2.0mm
12.0mm
2.0mm
2.0mm
12.0mm
2.0mm
2.0mm
12.0mm
2.0mm
2.0mm
12.0mm
3.0mm
3.0mm
2.0mm
2.5mm
2.5mm
2.8mm
2.8mm
3.0mm
3.0mm
3.0mm
3.0mm
Dimensions (in.)
6″ x 10.5″
6″ x 10.5″
6″ x 14″
6″ x 14″
6″ x 16″
6″ x 16″
6″ x 18″
6″ x 18″
4.75″ x 9″
6″ x 10.5″
8″ x 14″
8″ x 16″
8″ x 18″
10″ x 14″
10″ x 18″
25″
31″
31″
37″
37″
43″
43″
47″
46″
Compatible Machines
CRT830
CRT830
CT436
CRT836
CT436
CRT836
CT442
CRT846
CT442
CRT846
CT446
CRT846
CRT1046
CT446
CRT846
CRT1046
CT424
CT430
CRT830
CT436
CRT836
CT442
CRT846
CT446
CRT846
CRT1046
CT436
CRT836
CT446
CRT846
CRT1046
CT424
CT430
CRT830
CT436
CRT836
CT442
CRT846
CT446
CRT1046
Other products that might interest you: