Back to top▲
CRT Ride-On Power Trowels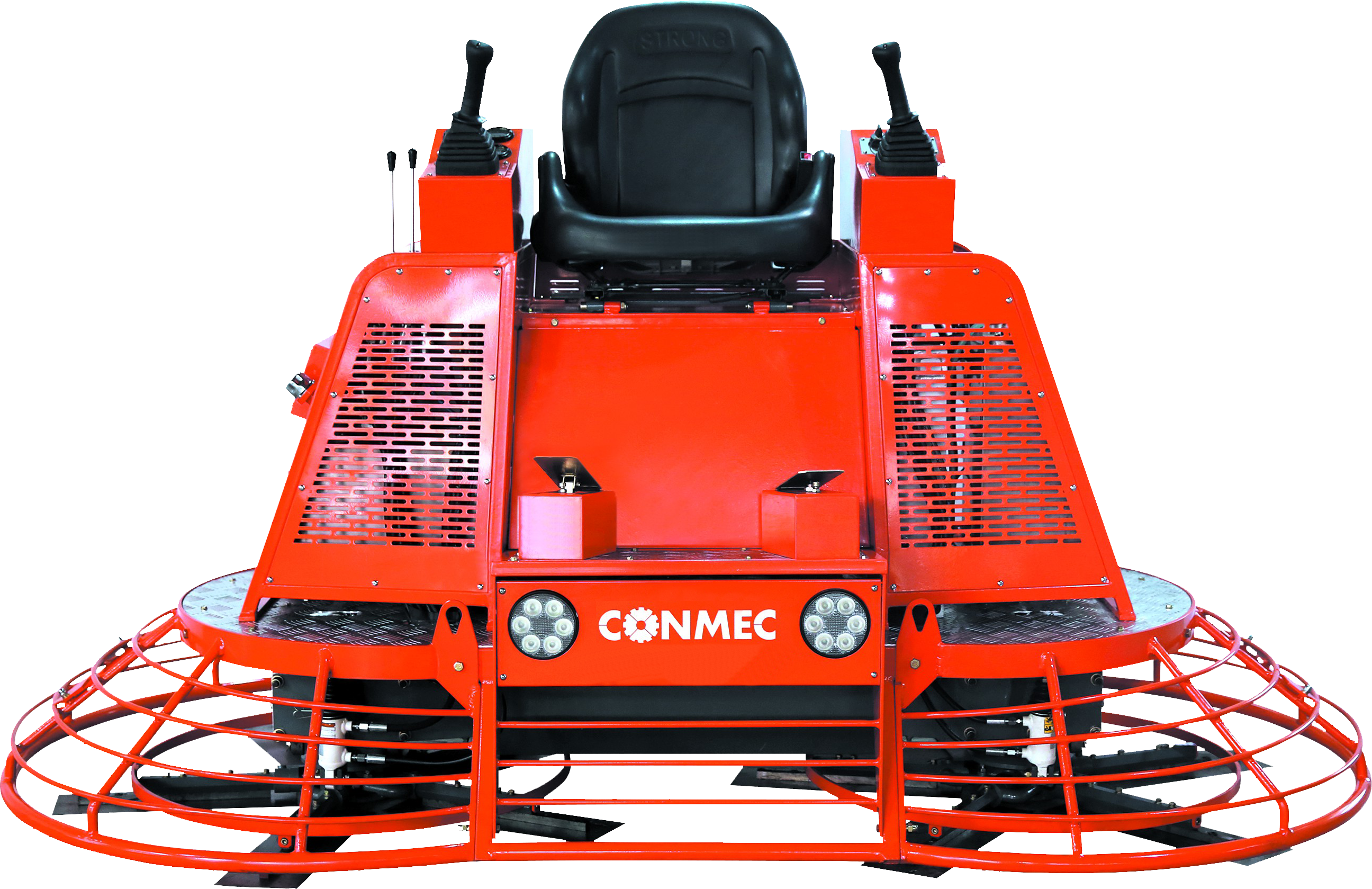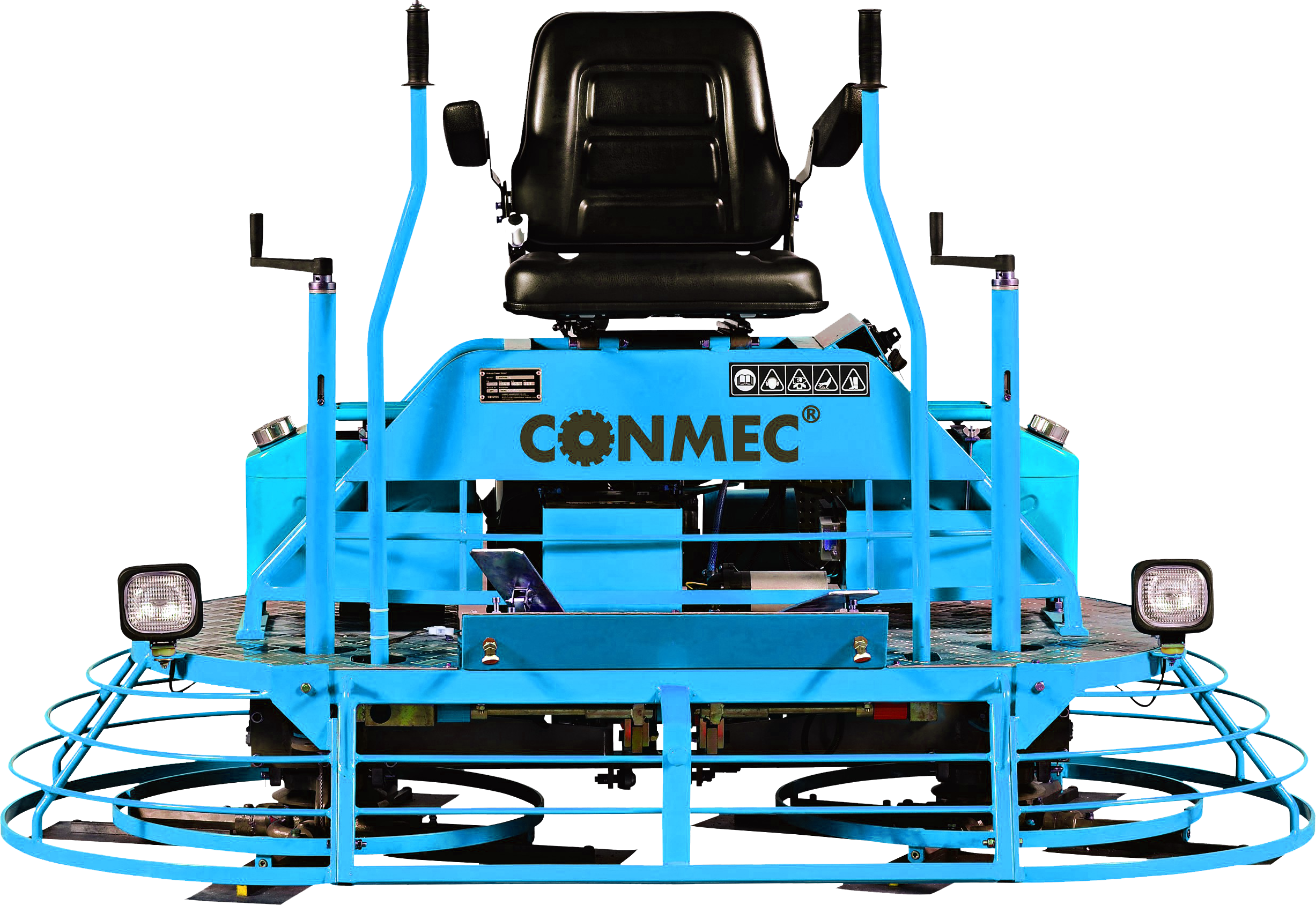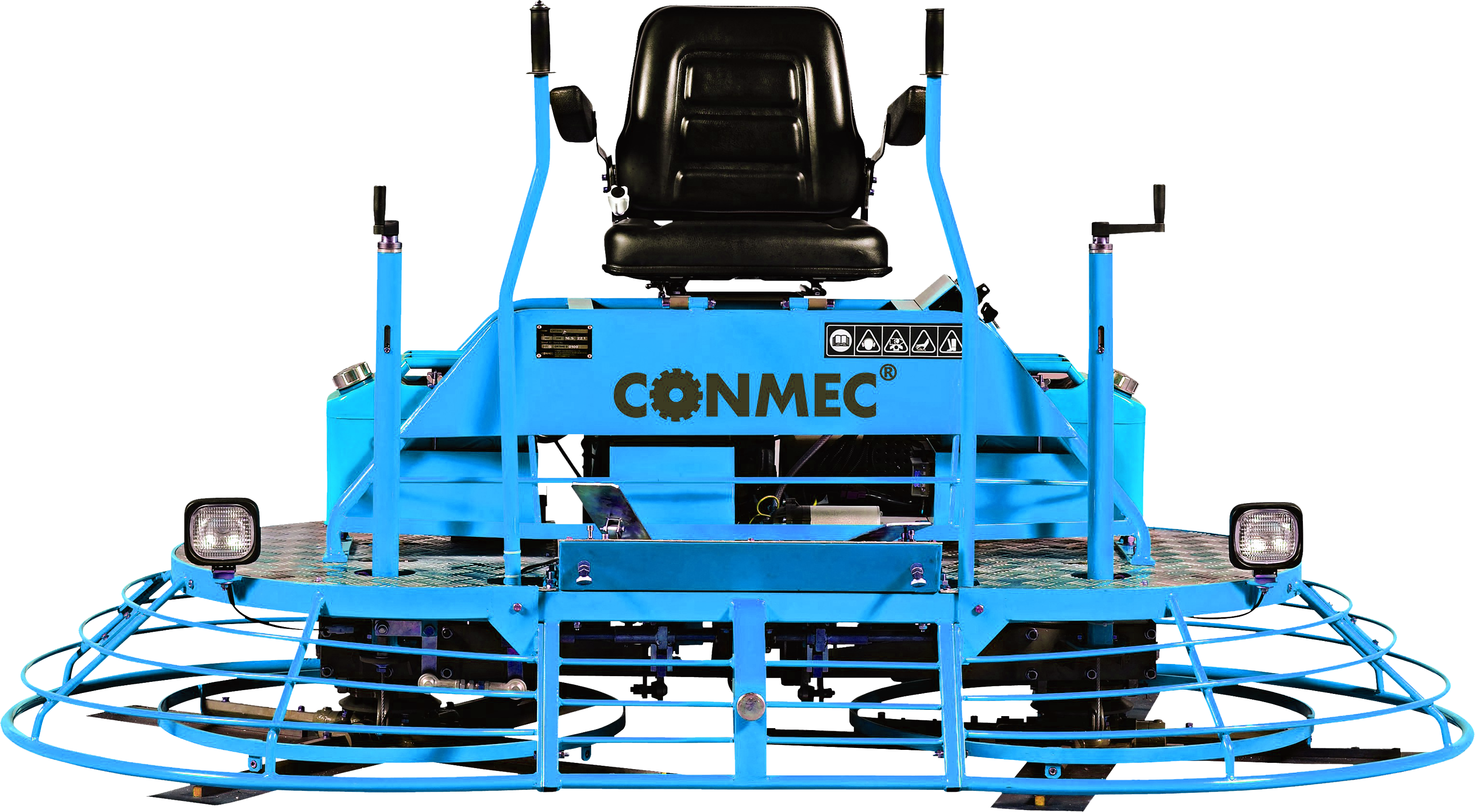 Jump to spec sheet
No matter the task, CONMEC offers a full line of ride-on trowels to suit every need. Each machine is made using heavy-duty steel and equipped with a high-horsepower engine to ensure that it gets the job done right the first time.
Each trowel comes with a full set of finishing blades to get you started. Additional blades are available depending on your needs.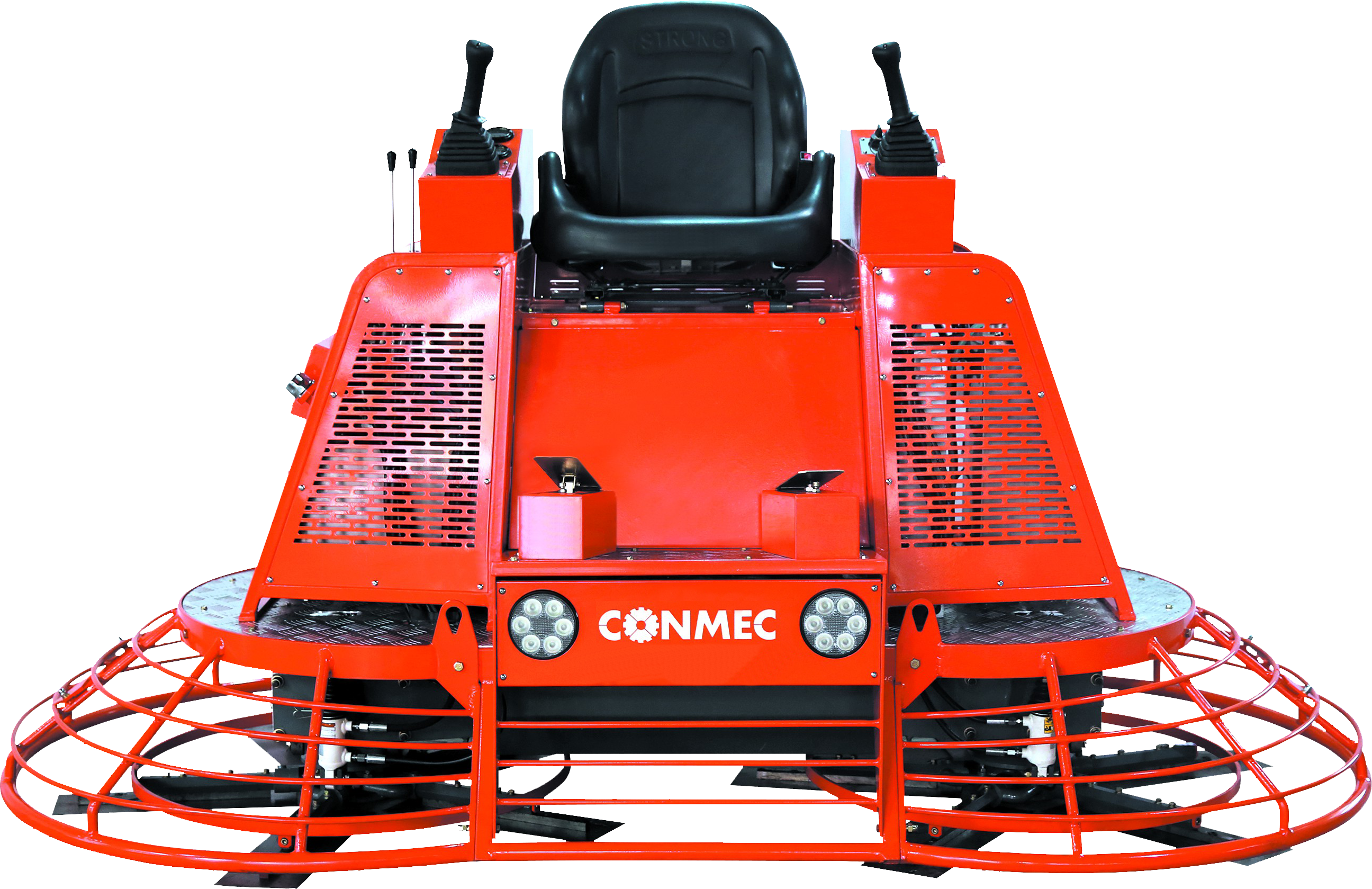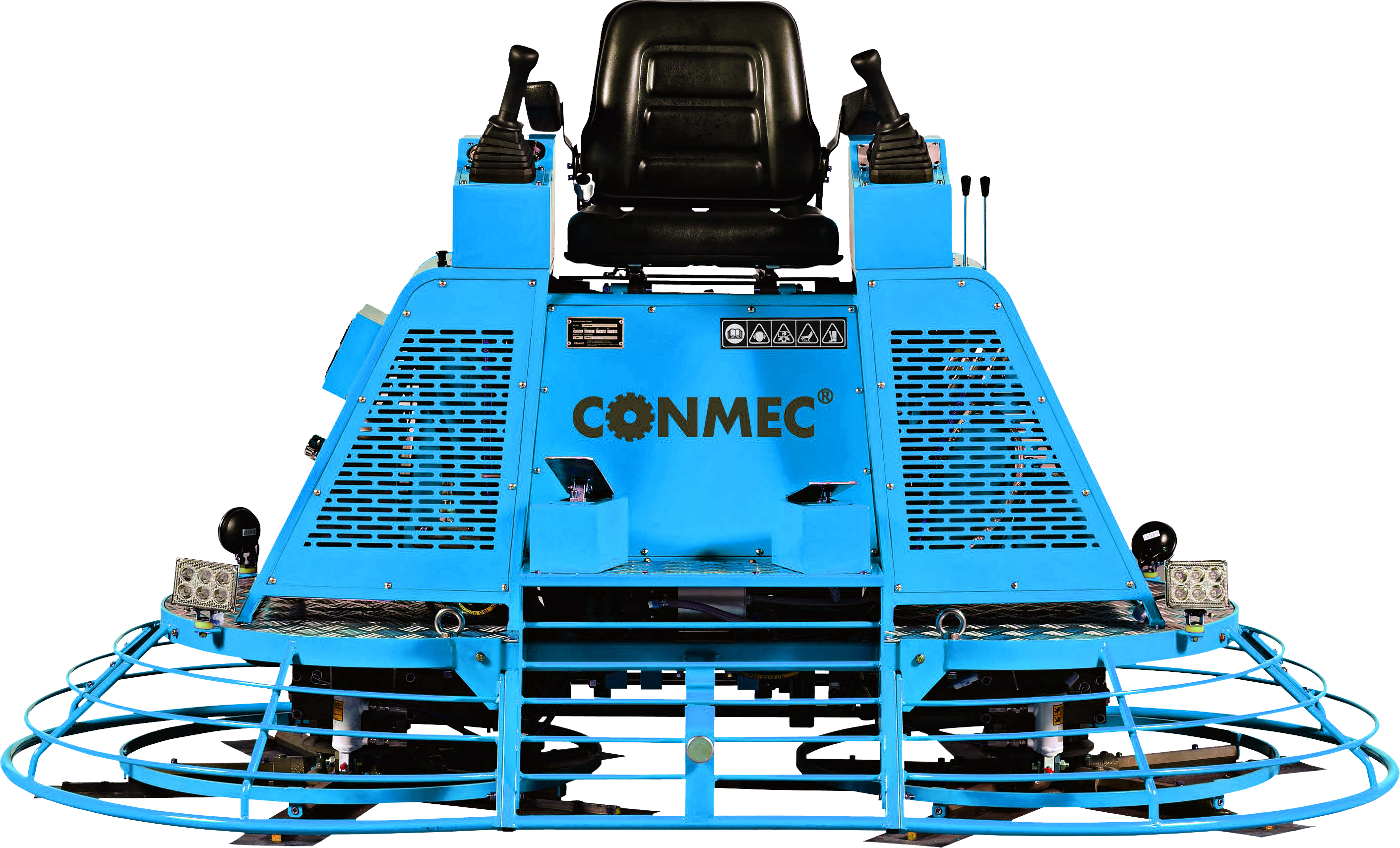 CRT1046
Our most robust and luxurious model to date, the CRT1046 is designed with comfort and control in mind. Designed to satisfy the most demanding concrete contractors, they're also one of the most dependable models on the market. With ideal weight to horsepower ratios and hydraulic components, these riders ensure a peak performance every time.
Independent hydraulic joystick steering and pitch control
Temperature controlled cooling system
Heavy-duty, Italian-made hydraulic motors and rotors
High speed for superior finishing
Built-in hydraulic fluid reservoir
Hour meter, voltage meter, and hydraulic pressure gauge all in one location
Cast iron spiders with steel trowel arms
Heavy-duty gearboxes for long life and low maintenance
Flip-up end rings for efficient blade changes
Adjustable seat flips up to reveal a sturdy lifting bale
Front and back lights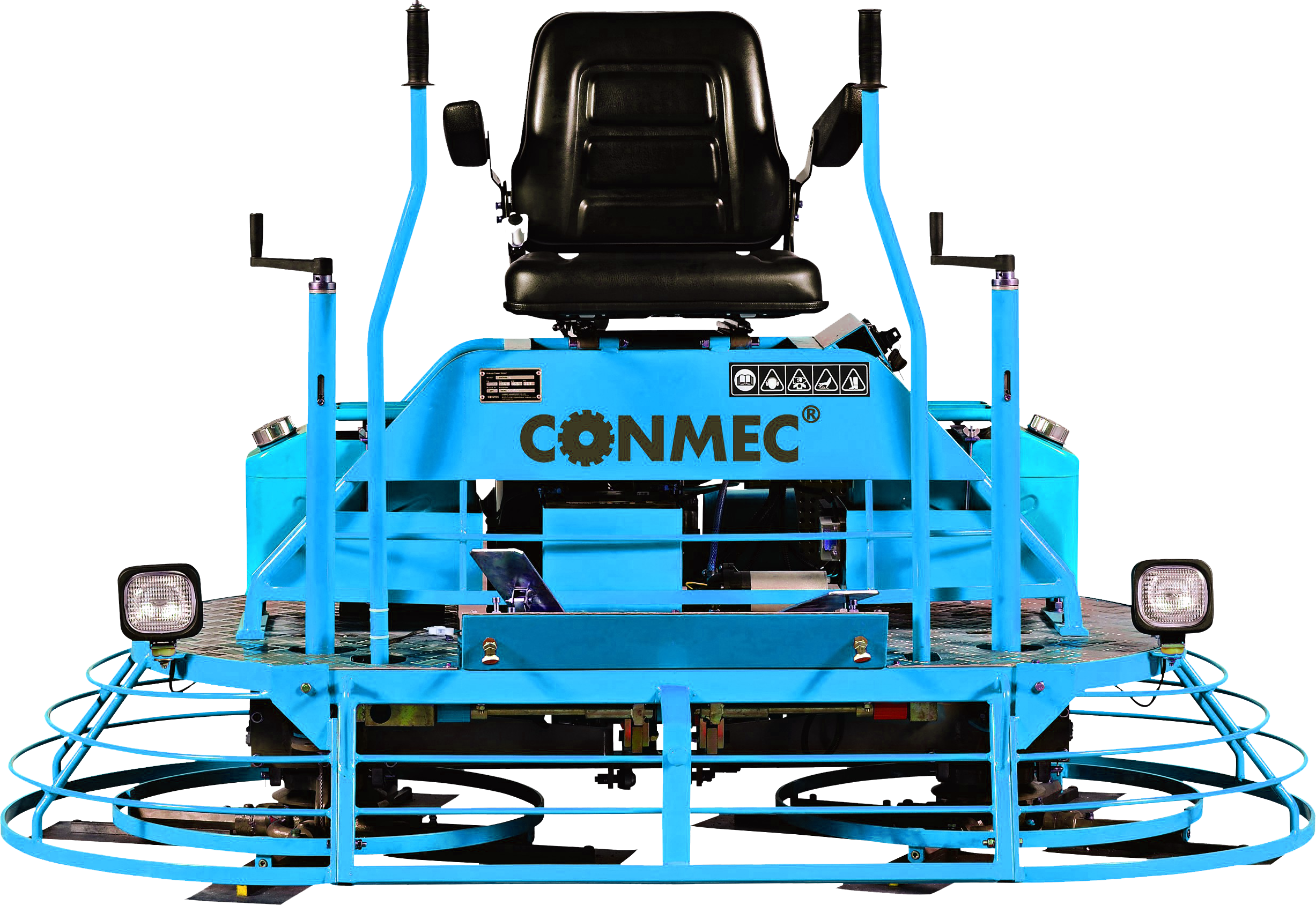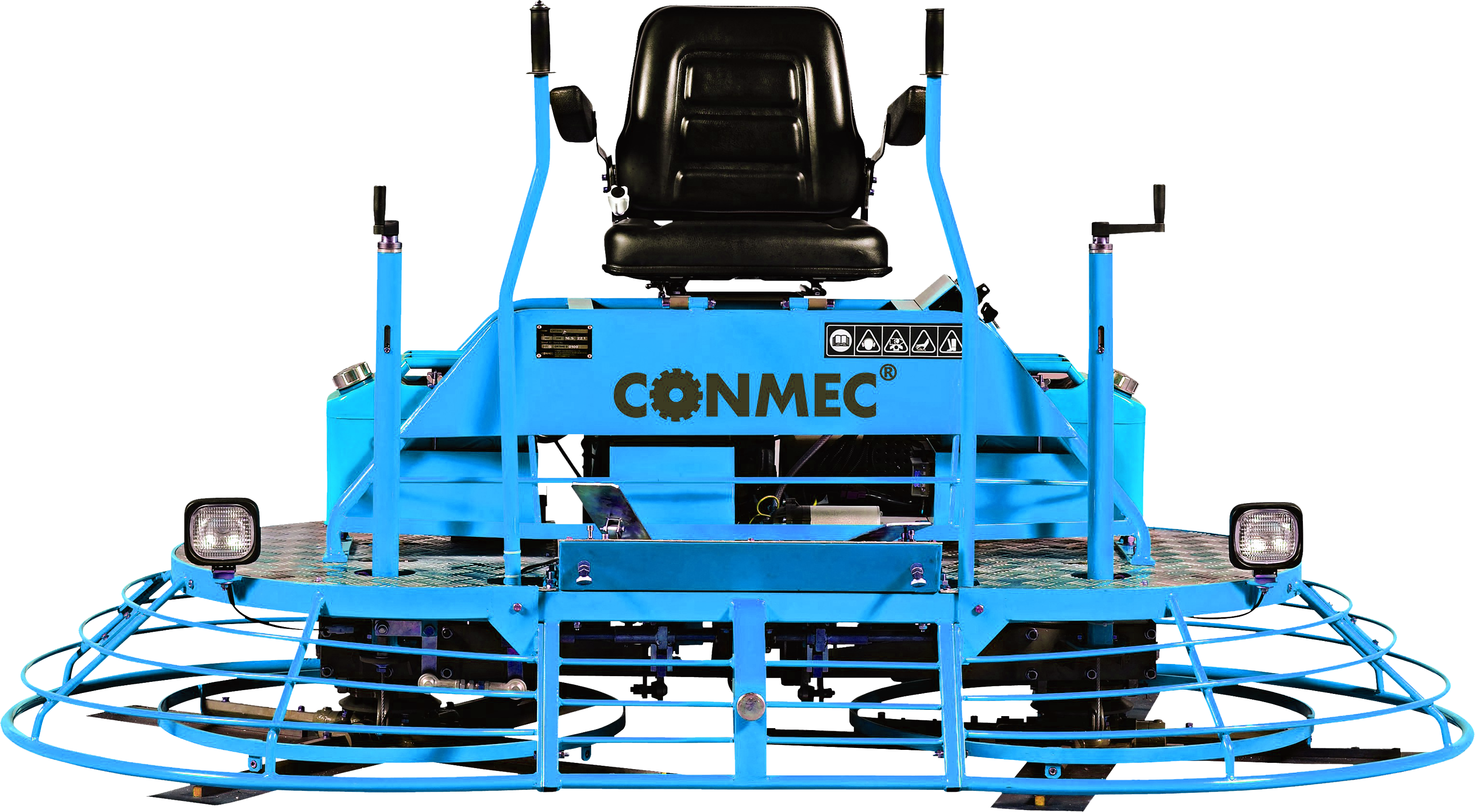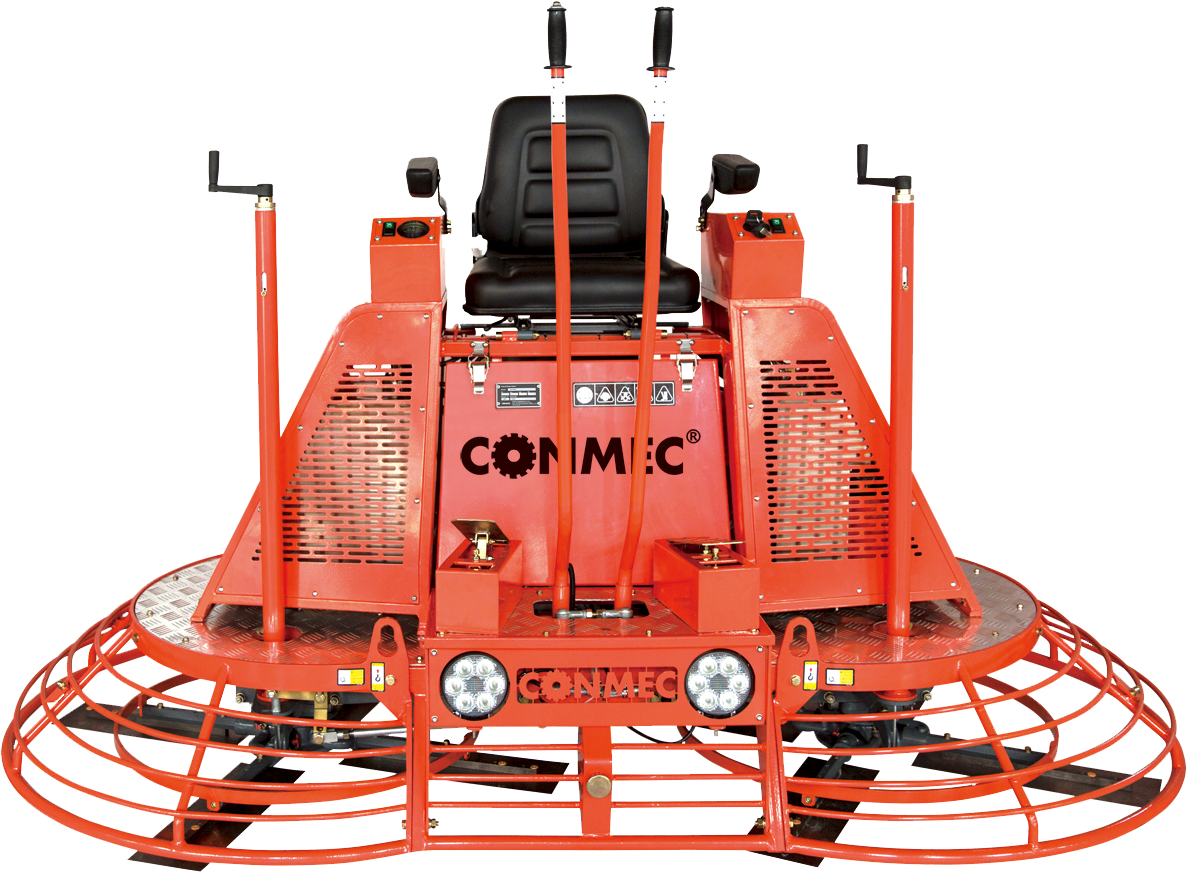 CRT836 | CRT846
Designed to meet the demands of the professional contractor, the CRT836 and CRT846 provide a lightweight, high-production machine built for easy maintenance.
Twin-stick, multi-directional steering system for precision control and full maneuverability
Dual-mode non-overlapping blades can house both blades and float pans
Precision-machined, tight-tolerance spider plate assemblies for exceptional balance and long life
High speed for superior finishing
Flip-up end rings for efficient blade changes
Adjustable seat flips up to reveal a sturdy lifting bale
Front and back lights
Technical Specifications
Model
CRT836-4U
CRT836-6
CRT846-6
CRT846-940
CRT1046-G1
CRT1046-G2
Engine
Honda GX690
Kohler CH740
Kohler CH740
Kohler CH940
Kohler CH940
Kohler CH940
Horsepower
22.1hp
25hp
25hp
34hp
34hp
34hp
Diameter (in.)
75.19″
75.19″
91.33″
75.2″
91.33″
97.64″
Blades per Spider
4
4
4
4
5
5
Overlap
No
No
Yes
No
No
No
Weight (lb)
748 lbs
748 lbs
836 lbs
1,036 lbs
1,205 lbs
1,660 lbs

Finishing

CFB061416
CFB061420
CFB061416
CFB061420
CFB061616
CFB061620
CF061816
CFB061820
CFB061616
CFB061620
CF061816
CFB061820
CFB061816
CFB061820
CFB061816
CFB061820

Combination

CCB0814
CCB0814
CCB0816
CCB0818
CCB0816
CCB0818
CCB0818
CCB0818

Super-Blue

SFB061420
SCB0814
SFB061420
SCB0814
SFB061620
SFB061820
SCB0816
SCB0818
SFB061620
SFB061820
SCB0816
SCB0818
SFB061820
SCB0818
SFB061820
SCB0818

Plastic

PCB0814
PCB0814
PCB0816
PCB0818
PCB0816
PCB0818
PCB0818
PCB0818

Clip-On

CFS1014
CFS1014
CFS1018
CFS1018
CFS1018
CFS1018

Float Pan

CFP037R
CFP037R
CFP043R
CFP043R
CFP046R
CFP046R
Trolley Kit
✓
✓
✓
✓
✓
✓
Op Manual
CRT836⇓
CRT836⇓
CRT846⇓
CRT846⇓
CRT1046⇓
CRT1046⇓
Parts Manual
CRT836⇓
CRT836⇓
CRT836⇓
CRT836⇓
CRT1046⇓
CRT1046⇓
Other products that might interest you: